Optimize efficiency with less down time!
OVERVIEW
Green Cubes Technology's multi-voltage, single 4/0 cable battery completes a full charge in less than one hour to maximize your operating efficiency. The 48V 600Ah, 24-85-21 equivalent battery provides the needed power without sacrificing hours in the day. In addition to offering our standard customizable features found in the Lithium SAFEFlex line, the battery also utilizes the existing single connector 4/0 cabling which delivers cost efficiencies and minimizes the chance of cable damage over traditional packs. This battery can meet the demands of heavy, three shift operators who need to maximize every available minute. The multi-voltage battery is designed to withstand the most demanding applications and increase your team's overall productivity.
FEATURES
Ease of Use
30 kWh, 48V 600Ahr battery can be fully charged in less than 1 hour at 320 amps
Configurable dot matrix battery discharge indicator provides critical battery information along with errors or other important runtime data
No change to truck required, CAN communication for lithium ready equipment • Utilizes existing 4/0 cabling
No Maintenance

No Watering
No Equalization Charging
No Battery Washing Needed
Safety & Protection
Utilizes Lithium Iron Phosphate battery chemistry for increased safety and stability
Voltage, Current and Temperatures are continuously monitored by Green Cubes Technology's custom Battery Management System (BMS) which controls the internal safety contactors or disconnects the fuse.
Constructed from UL approved components.
Energy Savings
Recharge efficiency of 98% or higher helps save electricity and minimal energy loss to internal heating extends battery life
Improvements in runtime capacity efficiency of 10% or higher
Charging at 2X voltage reduces power loss from component impedances
Flexible Design for Optimized Truck Applications
Green Cubes Custom Battery Management System (BMS) offers over 100 parameters that can be adjusted for performance based upon the application.

High Current Trucks with Accessories
Low Temperature Storage Operations
High Cycle Opportunity Charging

Fully ballasted battery for heavy counterbalance trucks or non-ballasted batteries for light applications
Exceptional charge management controlled by battery BMS is ready for CAN enabled chargers to further improve charge efficiency
INCREASE EFFICIENCY BY CUTTING CHARGE TIME IN HALF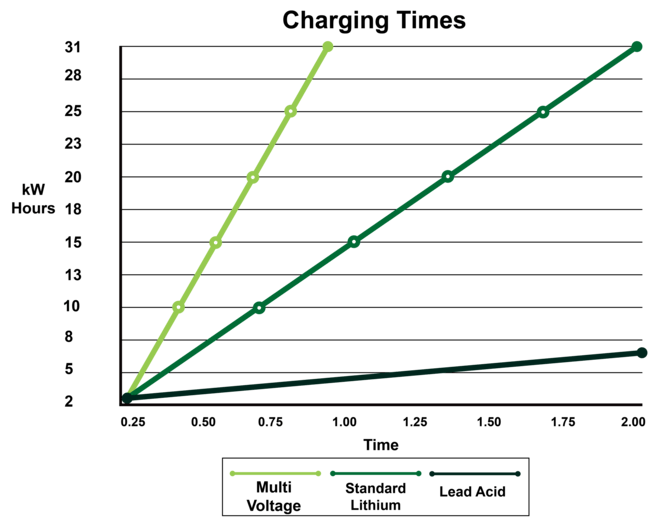 BENEFITS
High Cycle Life
True Fast Charge / Opportunity Charge
Drop In Lead Acid Replacement
Passive balancing while in use equals NO DOWN TIME
Standard charger cabling (single 4/0) with charging amperage of 320 amps
Cuts out the expense of extra cables
Reduce chance of cable damage
APPLICATIONS
Forklifts / Pallet Jacks
Automated Guided Vehicles (AGV)
Ground Support Equipment (GSE)
Industrial Electric Vehicles
INDUSTRIES
Distribution Centers
Cold Storage
Food & Beverage
Pharmaceutical Warehousing
---