Material Handling Batteries
Lithium SAFEFlex
Lithium SAFEFlex is the most advanced lithium material handling battery for all electric material handling (MHE) Classes 1-3, including small pallet jacks, end riders, center riders, narrow aisle forklifts, 3-4 wheel forklifts, large turret trucks and other material handling vehicles.
Lithium SAFEFlex is the integration of Lithium Iron Phosphate cells, electronics, packaging and a software platform that was designed specifically for the rugged requirements of material handling. The advanced mechanical packaging meets the impact forces of a large forklift and the rugged automotive-grade Battery Management System (BMS) makes Lithium SAFEFlex the most reliable lithium battery for the material handling industry.
Features
Advanced Dual CANbus Ports – Dual ports support different motive power manufacturers and models, as well as concurrent charging.
Multiple Voltages – 24/36/48/80/96 Volts up to 1200 Ahr.
Flexible Controls – Operates a wide selection of relays and contactors, multiple programmable I/Os, rollover/crash sensors and programmable logic controllers.
Lithium Iron Phosphate Chemistry – Uses a variant of lithium-ion chemistry that delivers exceptional cycle life and power delivery.
Efficient Software Tools – Integrated WiFi transceivers enable IoT reporting to web-based software that enables better battery and fleet performance.
Mixed Fleet Support – Compatible with Hyster-Yale, Crown, Toyota, Raymond, Combilift, Jungheinrich, Caterpillar, Doosan, Mitsubishi and more.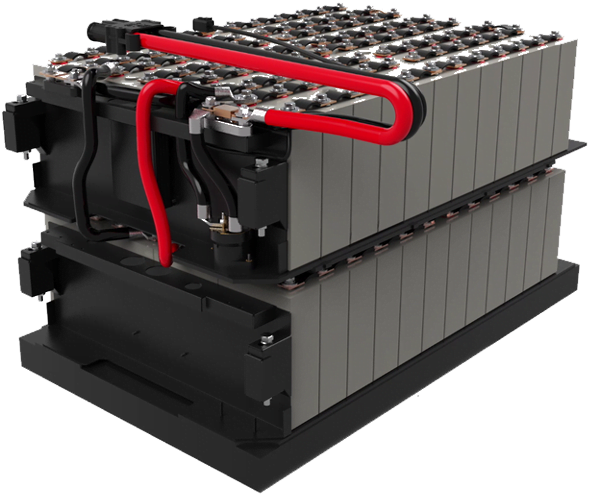 Multi-Voltage Battery Upgrade for Lithium SAFEFlex
The Green Cubes patent-pending multi-voltage battery option completes a full charge in less than one hour to maximize your operating efficiency. With a patent-pending power switching fabric, a 36V battery can be charged with a 72 Volt charger, but still discharge at 36 Volts when powering the truck. This reduces the charge time by 50%. As an example, a 48V 600Ah, 24-85-21 equivalent battery can be fully charged in much less than an hour. The multi-voltage battery option is available in 24 Volt (24/48), 36 Volt (36/72) and 48 Volt (48/96) battery configurations. In addition to our standard customizable features found in the Lithium SAFEFlex line, the multi-voltage battery utilizes the existing single connector 4/0 cabling which delivers cost efficiencies and minimizes the chance of cable damage over traditional packs. This battery can meet the demands of heavy, three shift operators who need to maximize every available minute. The multi-voltage battery is designed to withstand the most demanding applications and increase your team's overall productivity.
Operations In Cold Storage and Freezers
Lithium SAFEFlex enables 100% uptime and utilization of your Material Handling equipment that operates in cold storage and sub-zero environments. Whether you distribute refrigerated Covid-19 vaccine or you operate a freezer facility to store frozen food, Lithium SAFEFlex material handling batteries provide substantial benefits over lead acid battery power for your MH equipment, including:
Lithium SAFEFlex can be fast charged in a single hour at temperatures as low as -40 degrees Fahrenheit/Celsius and the charging station can be located within the cold storage area. This means forklifts will never leave your freezer and pallet jacks can be charged in your refrigerated trailers.
A single battery permanently installed in your material handling equipment can support 24/7 continuous operation with an opportunity charging regime.
Lithium SAFEFlex can operate in cold storage facilities as low as -40 degrees Fahrenheit/Celsius without performance degradation.
Integrated heaters embedded in Lithium SAFEFlex batteries ensure material handling equipment can operate in ultra-cold freezers.
The material handling equipment never leaves the cold storage chamber for a battery swap or to visit a charging station. This keeps the equipment from collecting condensation, which helps to prevent dangerous icy conditions.
Lithium SAFEFlex material handling batteries increase the velocity of your distribution business with your existing fleet of MH equipment. When compared to traditional lead-acid batteries, lithium batteries charge faster, last longer and deliver more usable energy with each discharge. With batteries charging faster and lasting longer, there is less downtime. Similarly, batteries don't need to be swapped, watered, or equalized at room temperature, which streamlines operations and increases efficiency at cold storage facilities.
Request a Quote or Contact Us to learn more about our Lithium Material Handling batteries.
---
Additional Information & Resources